Building A Fully Fabricated Front Suspension
Tuesday 07 August, 2012 at 10:30 am admin Uncategorized 0
Okay, so lately i have been deep into this suspension build for a Trailblazer SS project going on at California Fab Shop. They were building a true AWD trailblazer with a very heftily built motor, and wanted to lay it out flat on 22″ billets. I have worked with Kris Carroll, who runs California Fab [...]
Okay, so lately i have been deep into this suspension build for a Trailblazer SS project going on at California Fab Shop. They were building a true AWD trailblazer with a very heftily built motor, and wanted to lay it out flat on 22″ billets. I have worked with Kris Carroll, who runs California Fab Shop, in the past on a few of his projects, so when he asked me Help with this one, i said yes right away, but was not prepared at all for how many hours of time i would have into it. I have no pictures of this begining process, so bare with me, you will have to go from description alone while i describe how the job starts.
One day in may, a pallet showed up at the shop, it pretty much had the entire hub to hub front suspension from a Trailblazer SS on it. At the time i was really busy with other work, so i unpacked it all, glanced it over and saw what a mess the stock suspension was, but didnt really have time to look too deeply into everything. When the time came to work on this thing, i decided that literally everything on this trucks stock suspension, had to be tossed in the garbage can. It was all useless. The only thing kept from the stock suspension was the wheel hubs, everything else got scrapped.
The goal on the truck was to lay it out on 22″ billet wheels, while getting 10+ inches of suspension travel, and retaining the AWD. I started by cutting up pieces of cardboard to simulate the arms, spindles, sat on my shop floor and started simulating spindle arc paths with different length arms, keeping the caster and bumpsteer in check while being able to keep a really usable camber arc. Obviously, to little camber and the wheels wont tuck into these hellish shaped fenders that i was told i had to work inside, and too much camber and it would be useless. Keep in mind, i had to figure this stuff out, with no vehicle to refrence or sheetmetal to measure, just good ole email communication, and hundreds of pictures haha. Then, while keeping their fabricated frame in mind i had to refrence the mounting points onto their frame, so they could get some mounting points started.
After a few hundred hours of figuring mounting points, camber and caster details and how the mounts would improve or hurt one or the other, i was able to settle on a space the parts needed to be built in, it was not a design but just a use able area I could now design my parts inside of. Now it was time to design the actual parts. Kris said they were going with an industrial type theme, and were using a lot of hex head bolts, and what not all over the place, so going with their theme, i came up with a design. At this point, i had roughly 150 hours of time into figuring our the working parameters, and now was about to devote another hundred hours of design time into the actual parts. There were a lot of factors that had to be kept in mind when designing these parts. The engine would have 600+ hp, and would be AWD, which is not typical. I probably went through 15 sketches before i finally settled on the final design.
Then it was time to make it happen.
Started on the hubs that the spindle would be built around. Settled on 8″ diamiater 3″ thick slugs.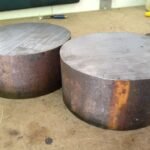 Turned and faced them on the lathe to a true 3″ thick slug: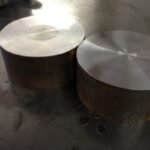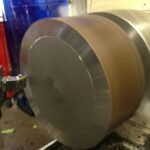 Typically, this would be the point where I would load the slugs into the water jet table, and cut from them, the slug that i would use for the shape of my hub, as you can see from the picture, there was a programming error on my end, and i produced an expensive set of paper weights: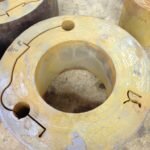 So, i went back to square one, cut some slugs, faced them and loaded them back into the water jet to cut the base design for the hub. This time all went as planned, and i was left with a pair of nicely cut slugs for the hubs. I then machined them with a pocket for the vehicles wheel hub to sit into, and have a nice nest to fall into when installing. This is necessary to make sure you get a very tight fit of the wheel hub into the hub base.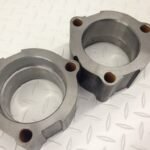 Then, I waterjet cut the pivot points for the spindles out of 1.5″ solid material, and machined it true flat. On this design, I decided to mount the uniballs sideways so they would get unlimited travel, without binding, with how short the arms were, it was our best bet, so i came up with a design that required no welding of a cup, but was machined to fit correctly in the slugs, and assemble together with hex head bolts, making a very clean and simple install, that kept an industrial theme, also machine the retaining rings for the bearing that sits in the main housing. again, these were designed for maximum travel, but also i wanted them to look really good. To my knowladge, this is the first time a "uni-ball" spindle had been built like this, keeping the bearing mounted into the housing of the spindle, with no welds or cups involved, I was very very stoked with the design, and could not wait for it to get done to snap pics:
Then, really it was time for a lot of welding. and when i say a lot of welding, thats what i mean. In the material prep work, and welding time, there is over 130 hours into it. In my shop, everything has to be sand blasted, and polished before tig work, so everyghing had to get blasted and polished, then all was TIG welded in place. When i design the parts i make them sort of jig together, so they fall into place, and dont require any elaborate jigs to assemble, but, on this particular one, since the material was so thick, i made a place jig so when i welded the main structure, it did not warp at all. Welding photos: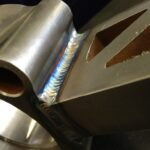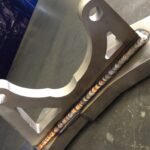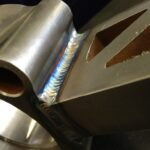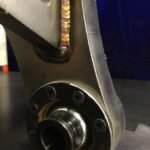 As you can see from those pics, a steering arm was designed and added, as well as a caliper mount that will hold the pair of Baer 6p calipers that are to be installed.
After it was all welded up and cooled down, i was very excited to get it assembled and see what it all looked like. I was so happy with the final design, it looked and functioned exactly like i had intended.
Now, obviosly you can see in those last few pics, we designed, and built arms as well. They were a bit simpler in the process, but unique none the less. Since i went with the horizontal uni-ball design, the arms had to accomidate it. Its all .750 plate, and .500 plate. The uppers are shaped in a way so that it clears the tire at all times of the turn also.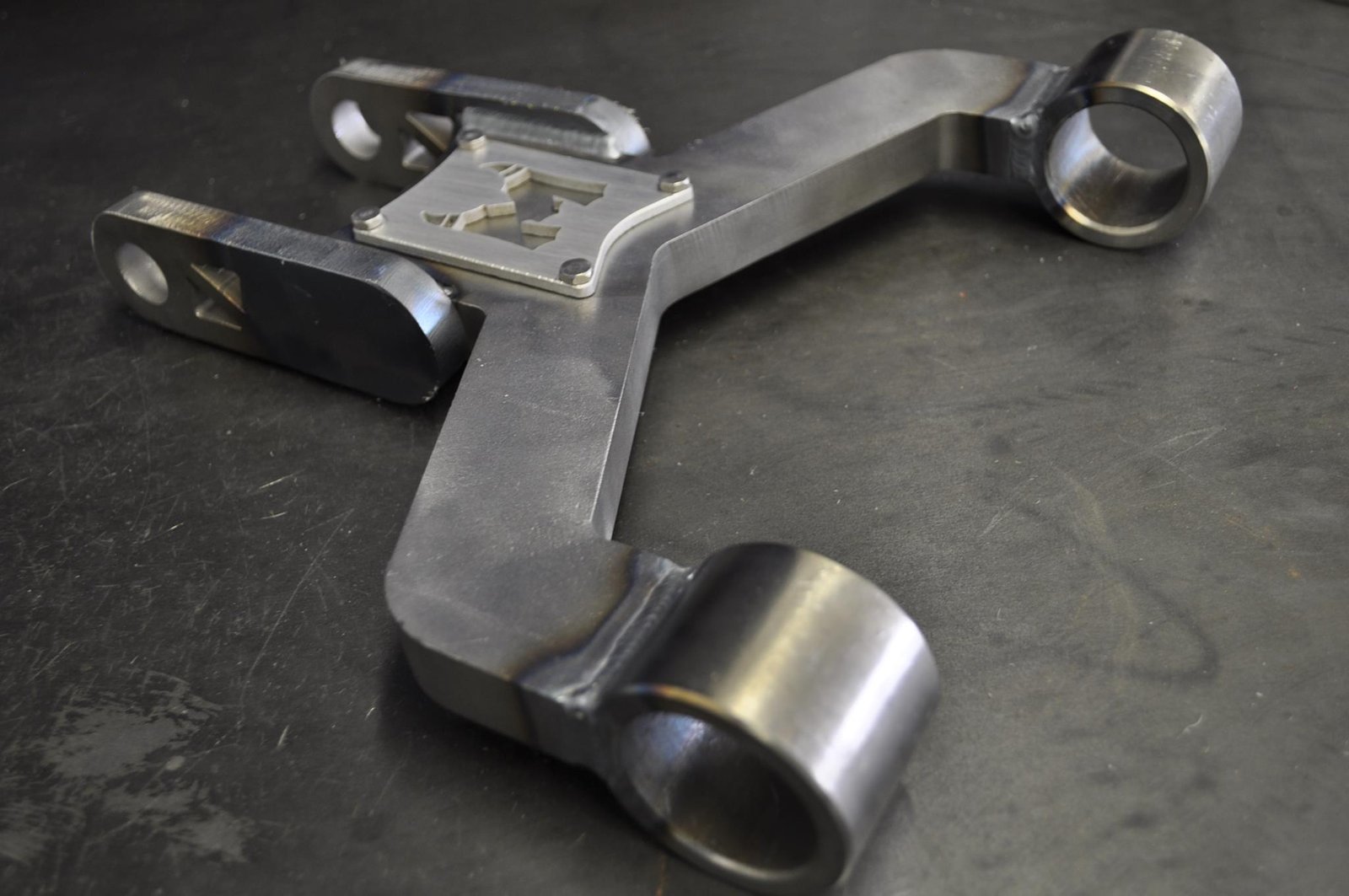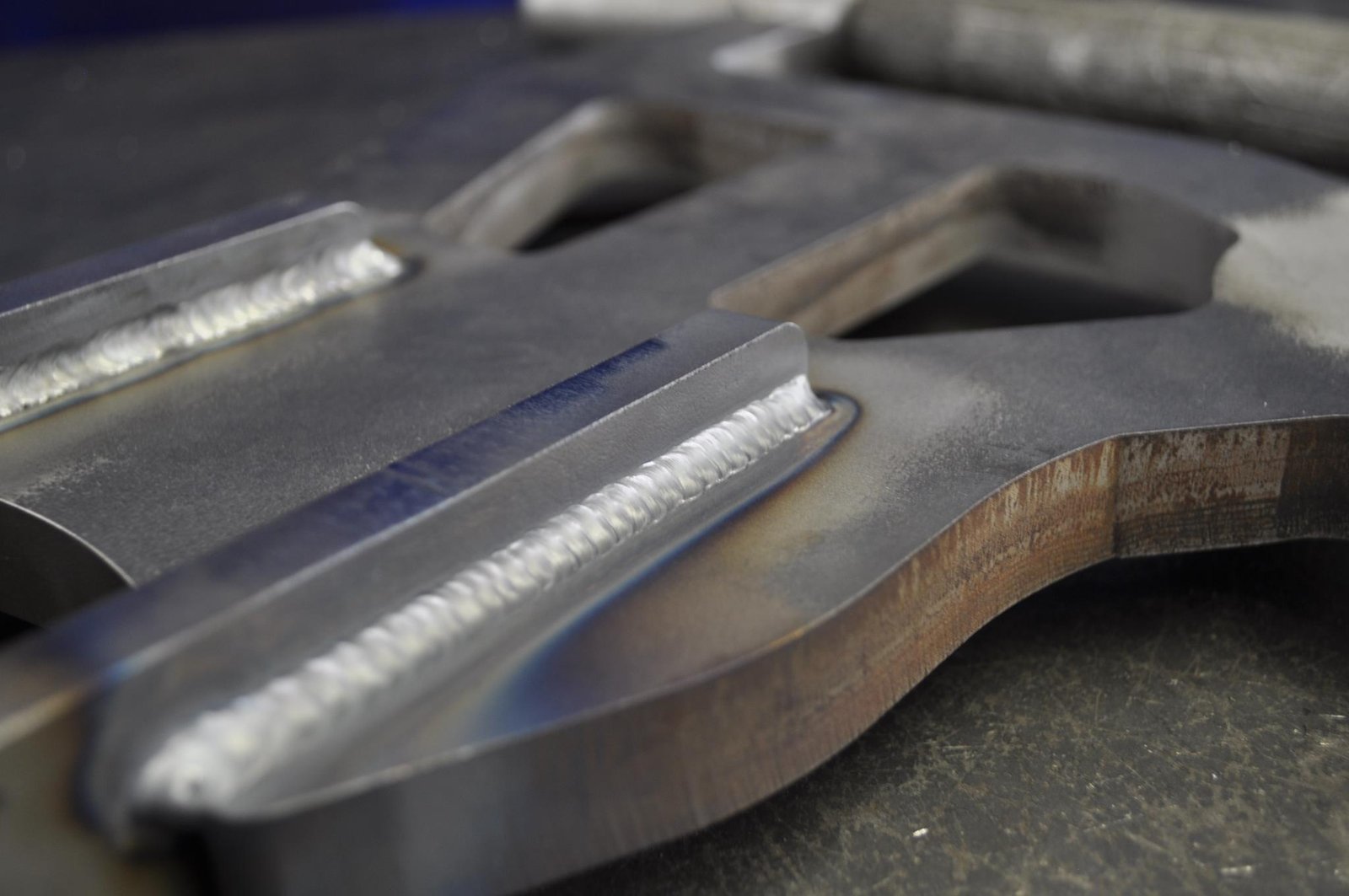 At this point, we are tearing it all down, and palleting it back up, and sending it off to the guys at California Fab Shop, so they can do the final assembely, and get everything situated on the trucks frame, and get this chassis into a roller for Slamily Reunion 2012!
Hope you enjoyed the mini tech article, I hope to do more and take more photos of the actual brain storming process.
–Taylor
Comments